Mr. Jordan Printup Joins Theology Department
Mr. Jordan Printup joined McQuaid Jesuit in the theology department for the 2019-2020 school year.
Mr. Printup has lived in the Niagara Falls area on a Tuscarora reservation since age 1 and continues to live there today. 
He attended brother Jesuit school Canisius High School in Buffalo, NY where he was very active playing lacrosse, skiing, and participating in multiple clubs. Following high school, Printup attended Hobart college majoring in religious studies with an emphasis on Asian philosophy. He double-minored in Holocaust and Genecide studies as well as Anthropology.  
"Growing up on a reservation there's a lot of unspoken social norms and they are really hard to convey unless you experience it and live there but I would say it's ultimately is very tight-knit family oriented where you don't really need friends (you know whatever school you go to) because your family are your friends," Printup said.
Upon graduation, Printup worked in the admissions department at Hobart college where he started a Native American recruitment program. After a few years, Printup decided it was time for him to depart America and better himself.
In an effort to do this Printup entered the Marshall Islands, a tiny country in the middle of the Pacific Ocean. The island is so miniscule that both sides of the ocean are visible from any point.
Printup taught all subjects to the seventh graders at a small school called Assumption School in the capital Majuro for an academic year. He loved it and loved the people. Printup specially noticed the transitioning cultural among the Marshallese.
"it came at a time where you had kids that had access to the internet, they had access to American culture, they had access to American media, and the traditional views of the Marshallese didn't really mesh with these and I got to be a witness to how this younger generation was meeting up with modernity but this older generation was still hanging on to the old ways and they were often conflicted. there were a lot of issues in the school that we really didn't know how to handle because it was just such a large generational and cultural divide the two parties," remarked Printup
He traveled to the Federated States of Micronesia up to Pohnpei and stayed at a Jesuit retreat center there. 
Eventually Printup left the islands and returned home to Buffalo working at a winery for a short period of time before entering the theology department at his alma mater Canisius High School for four years where he was a fixture for extracurricular life on campus.
Now that Printup is at McQuaid, he appreciates the routine and stability in his life. Printup enjoys lacrosse and skiing and loves to watch the Buffalo Bandits of the National Lacrosse League. 
About the Writer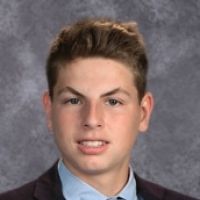 Luke Hofer '22, Staff Writer
Hofer came to McQuaid Jesuit in seventh grade from Penfield. He is a member of the volleyball program as well as a big fan of the Buffalo Bills and New...