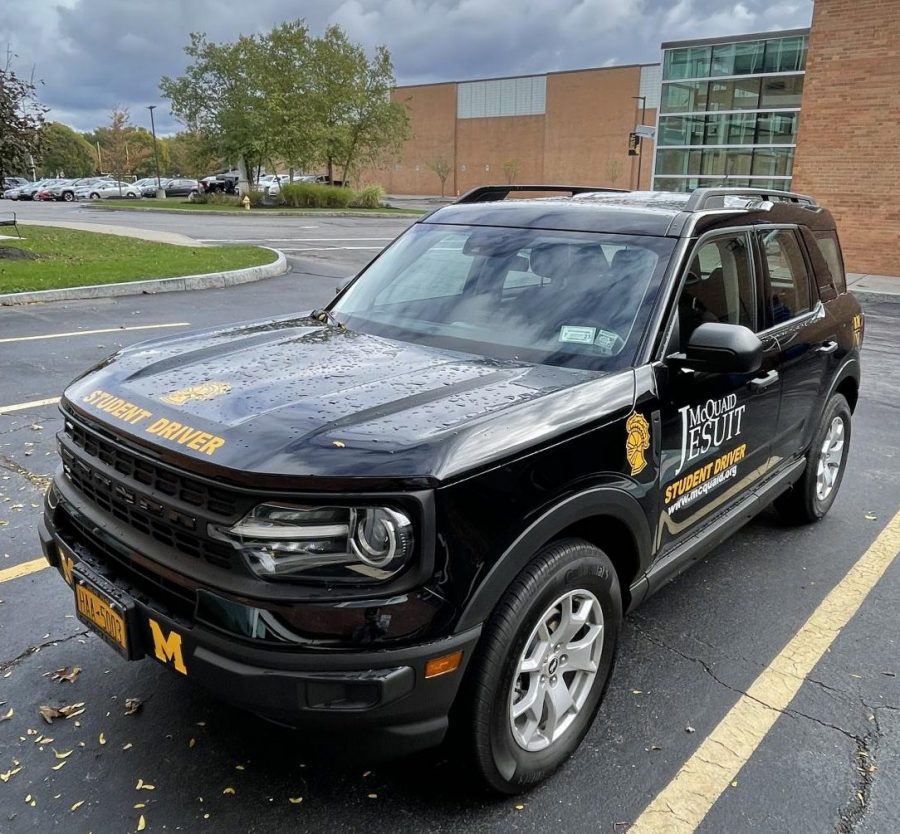 Jamie Kosten '23
Many of you may have noticed that the Dodge Charger has been missing from the parking lot for a while now, but recently a brand new Driver Education car has taken its place, the 2021 Ford Bronco Sport. 
It is the first SUV that McQuaid Jesuit's Driver Education program has used.
First let's get into the facts about the Ford Bronco Sport. 
The Bronco Sport is a fairly new car that came out in 2021.  It has four-wheel drive and is capable of fitting five passengers. Being an SUV significantly larger than the Charger, it also comes with the challenge of driving a larger vehicle. Unlike the Dodge Charger, the Bronco Sport does not have a six cylinder engine. 
McQuaid's previous cars were Nissan Altimas and Dodge Chargers, both of which are sedans. 
But why did McQuaid switch to a SUV?  The only requirements for the Driver Education car is that it must be the base model, it must be safe, it has to be able to fit three people in the back, and it must be black (so the gold marking and words appear). 
The Bronco fits all of these requirements.
Driver Education instructor Mr. Peter Wegman said,"We would have leased another Charger, but due to the pandemic, base model Chargers were hard to come by.  A lot of the other full-sized cars were gone.  So that is when it occurred to me that a lot of my students drive SUVs, and that is what we ended up getting." 
The car market has been greatly affected by the pandemic, so many sedans that would be good for Driver Education were either too expensive or not available.  So McQuaid was very fortunate to get an SUV that fits their requirements.
Many students are happy with the decision of getting a SUV. McQuaid junior William Ulterino, who participated in Driver Education and drove the Charger, said, "Though I am personally a small-car guy, many students drive SUVs, and it would be good for them to practice with an SUV. It also is safer than the Sedan and would be better in the snow."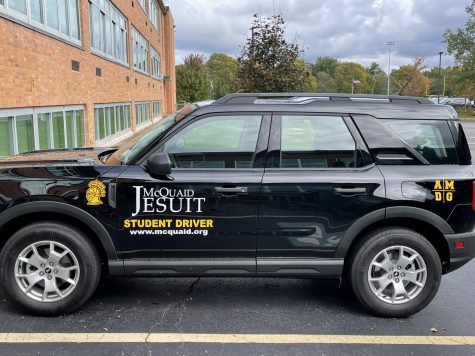 Due to the four-wheel drive in the Bronco, driving in Rochester's icy and cold winters will be a lot easier for new drivers. 
Though the Bronco has not yet been driven by anyone other than Mr. Wegman, many students look forward to driving it when they take Driver Education and are pleased with McQuaid's decision to get a car that most students would be more familiar with.