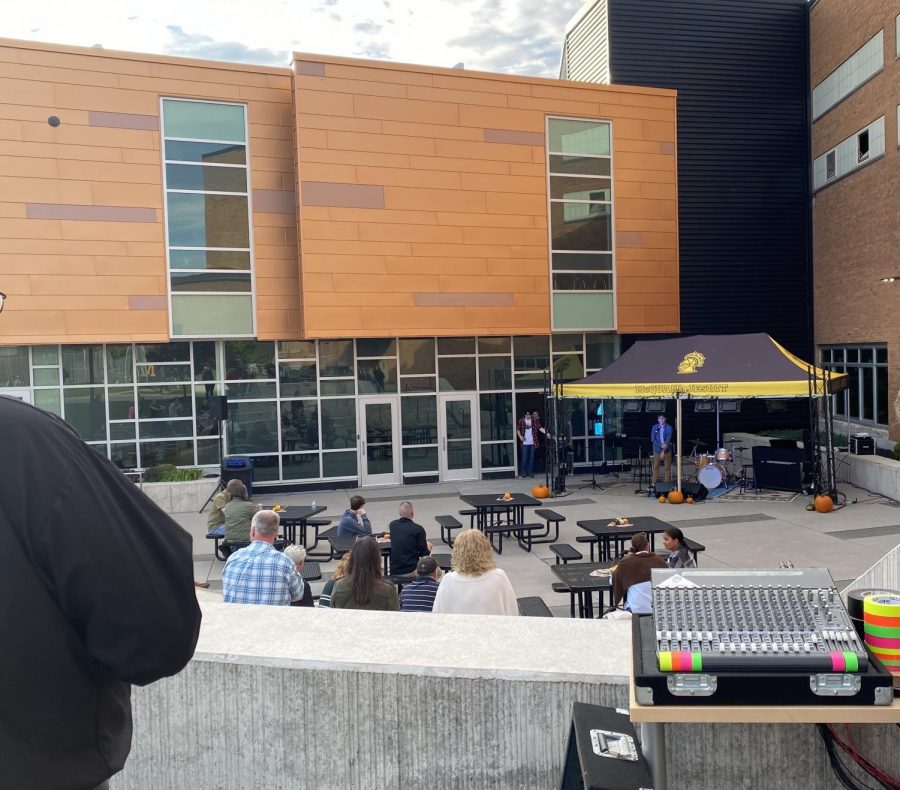 It's hard to sum up McQuaid's fall Coffee House in one word, but many might say the night was spectacular. Taking place in Carrerio Commons on Friday, October 8, a great crowd came out to support the brilliant acts who performed.
McQuaid students Dan Hanna '24, Sutton brothers- Michael '22 and Charles '25, Aaron Lynch '24, Vincent Vanderbraugh '27, Noah Baisch '23, Sean Devlin '23, and Aiden Blatter '23 represented McQuaid along with students from Our Lady of Mercy: Elaina Belec '25, Emma Grace Wade '22, Adriana Selena '22, and Teagan Dye '22.
These students got the chance to display their talents in front of a large audience with a wide range of singing, playing instruments, and performing spoken word poetry. A full crowd of parents, teachers, and students filled the commons, snacking on tasty treats provided by Parkhurst Dining. 
It was nothing but a great time, a night filled with laughter, love, and sometimes tears as some of the acts pulled at the audience's heart strings with their performances. 
When going around to some of the people watching, many were happy to give their review. 
"I am just in awe," said audience member Tracey Blatter.  "These kids came out with no fear and showed us nothing but a wonderful show.  I am happy I came." 
McQuaid student Jamie Kosten '23 said, "I am very pleased that Coffee House has returned, and I am very happy that I was able to attend." 
The audience was nothing but happy with the fact that this McQuaid event was back in rotation, providing a better mix of student events for people to be a part of and to see. 
The performers were all very excited to be a part of this great event. Speaking with opening act Dan Hanna '24, he voiced his gratitude. "I am so grateful to be a part of this, I am so happy for this opportunity to share a part of me to everyone here," he said. 
Needless to say the 2021 Fall Coffee House was a hit–giving many students the opportunity to share their talents to a wonderful crowd and adding to the positive atmosphere of the night. Kicking off the revival of the tradition hopefully will spark more Coffee Houses in the future.