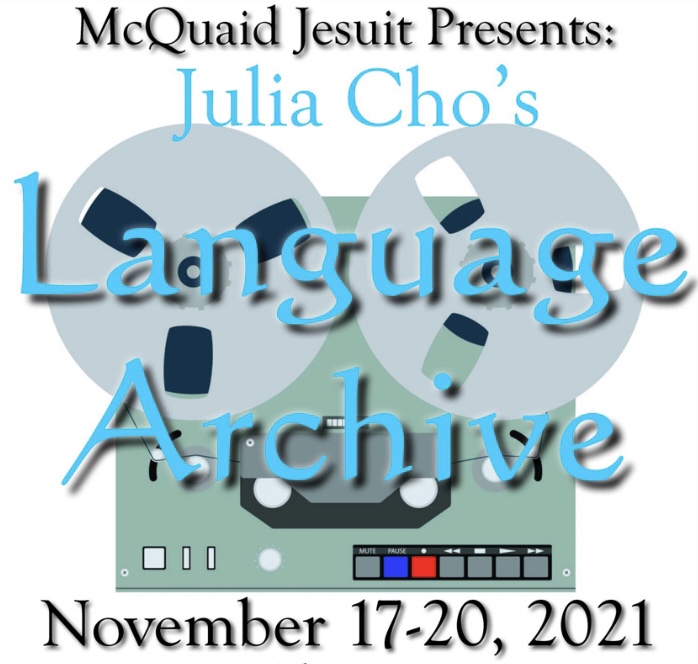 On Wednesday, November 17, McQuaid will have the opening night of its fall theater production, The Language Archive. For the first time since the production of Shakespeare in Hollywood in 2019, the auditorium will be able to hold its full capacity and the main cast will perform without masks.
Last year, the McQuaid Players recorded and streamed Art and You're a Good Man, Charlie Brown. However, the cast members were wearing masks. According to the Stage Director, Vincenzo Gelsomino '23, "Having to see Charlie Brown, but only half of their faces, really takes away from the atmosphere of a show in its entirety." 
Not only that, but the shows were unable to run in person, taking away from the atmosphere of an excited crowd. The productions of 2020-2021 were filled with uncertainty and doubt about how Covid would impact the ability to put them on at all.
But what is the theater program doing now that Covid is settling down?
In contrast to the uncertainty of 2020 and 2021, The Language Archive has far more certainty; there has been confirmation that the primary actors will be running the show without masks, and in person at full capacity. This will make for a far better show, according to Director Mr. Jeffrey Siuda.
"There is a magic that happens between a group of actors and a live audience that cannot be replicated through film," Mr. Siuda said.
Going forward, as Covid restrictions continue to loosen, the McQuaid theater department will be able to continue to run more shows, perhaps with larger casts, as more students are willing to take part. This spring, the theater department will be doing a production of the musical Little Shop of Horrors and will continue to run more shows.