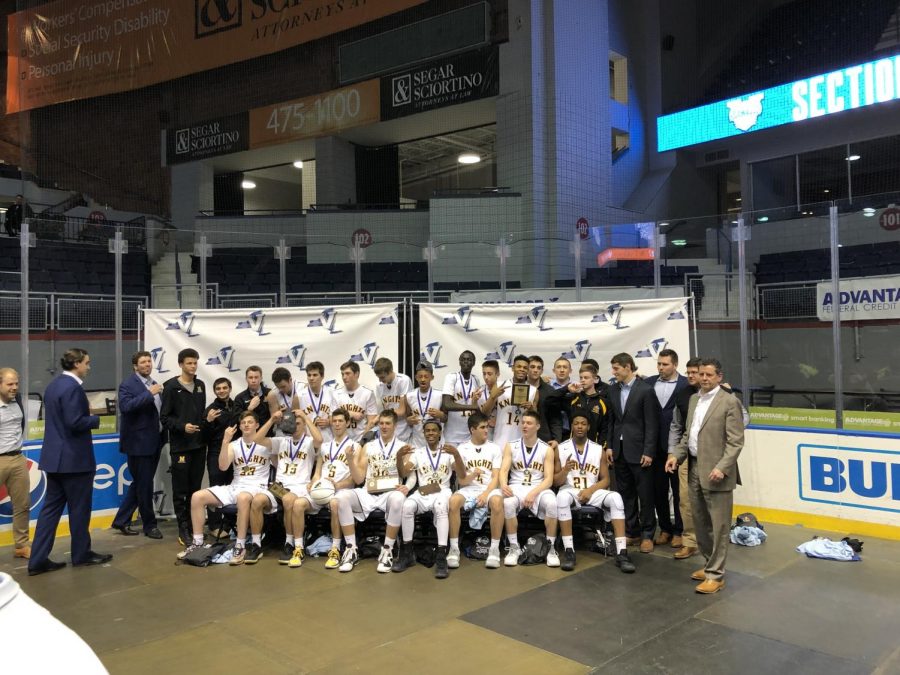 The McQuaid Jesuit varsity basketball team won the Class AA Sectional Championship on March 2 against University Preparatory Charter School. The Knights won the game 81-75, capturing the sectional championship for the second year in a row.
The game was exciting and came down to the last moments.
"The third quarter won us the game," said junior Kobe Long. "Without the lead going into the fourth quarter, I don't know if we would have won."
The Knights outscored Uprep 23-13 in the third quarter and jumped out to a 65-50 lead going into the fourth quarter.
UPrep surged back to tie the game 70-70 before the Knights ended the game on a 11-5 scoring run, which was capped by Long's suspenseful basket while getting fouled.
"I was just so excited, and I let all the emotion out of me. I just knew the game was over, and I felt a sigh of relief," Long said.
Along with an outstanding third quarter and championship level hustle throughout the game, the Knights were led by junior Jermaine Taggart in scoring and rebounding. Taggart had a game-high 27 points on 50 percent shooting from the field and 10 rebounds. Taggart played so well that he ended up winning MVP for the tournament.
"Winning MVP felt really good. I know I put in the work for it by staying extra time before and after practice," Taggart said. "I couldn't have done it without my teammates, parents, and coaches."
"JT played harder in the last two games than I have ever seen him play. His effort on the defensive end and on the boards was fantastic," head coach Jack Leasure, '04, said when asked about Taggart's performance.
The season leading up to the game was filled with many good and bad moments according to all the players. Individually the players had to grow and take on their role with a growth mindset.
"The team has come a long way. We had ups and downs, but they stayed focused on improving throughout. They reaped the rewards of that with a second title," said Leasure.
The team had contributions from multiple players. Senior Harry Bruu was named to the all-tournament team along with Long and Taggart.
"Making the all-tournament team felt great… But at the end of the day, I'm not worried about that. The brick is what I wanted," Bruu said.
The team also credited student support as a reason they won the game.
"I thought the SIMBA section was huge. Hundreds of kids screaming in support for you is absolutely amazing and motivating," senior Connor Zamiara said.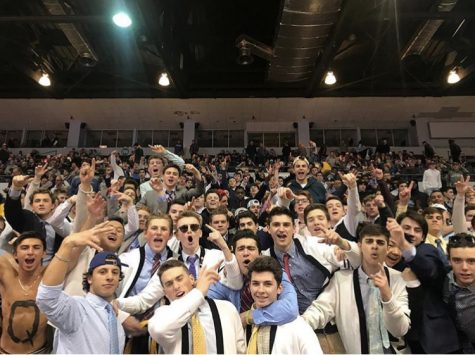 McQuaid's next game is against rival Niagara Falls for the regional championship. This game begins the Knights' journey to the State Championship. The game will be held at Greece Athena High School on Saturday, March 9, at 8:15 p.m.