Buffalo Bills Handle COVID-19 to Protect 2020 Season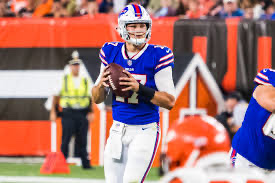 The Buffalo Bills, along with the rest of the NFL, are dealing with the COVID-19 virus in the 2020 NFL season with new caution and changes throughout the league.
COVID-19 has significantly impacted the United States, affecting our daily lives and even what makes the country amazing, including some good Sunday football. The NFL has prepared and taken many precautions to try to keep the sport alive this season.
Each franchise has their own COVID-19 rules, but the NFL, as a whole, released general guidelines to serve as the basis for team specific protocols. According to ESPN, daily COVID-19 testing has been in place divided in between two different groups, Tier 1 and Tier 2. Many of these rules have changed throughout the season due to spikes in cases, sometimes just in the general area.
The Bills organization spiked with only 1 case of COVID-19, Dawson Knox, but all tight-ends were put on the reserve list because of close contact. Other teams, like the Tennessee Titans, have heavily been affected by COVID-19 and have postponed and cancelled games over it. The Bills, being one of the games that was postponed, have been very hesitant where their players go and with whom they meet. 
The Buffalo Bills have taken COVID-19 very seriously, treating their players well and accepting of players who go on the reserve list.
In the interest of player safety, New Era Field has not been hosting fans this season so far.

Although saddened, many Bills fan understand the necessity of these precautions.
"It's always more exciting to watch a game when there's fans in the stand. It's always more fun to go to an actual game, but given what's going on in the world right now it's probably safest if fans aren't allowed in the stands right now," said Mr. Gorton, an English teacher at McQuaid Jesuit and Bills fan.
The future of the NFL is looking bright, the players of each team have kept the NFL alive. The NFL's precautionary measures implemented could use some tweaking, but is shown to be quite effective throughout the first half of the season.