Buffalo Bills Finish Historic Season Following AFC Championship Loss Against Kansas City Chiefs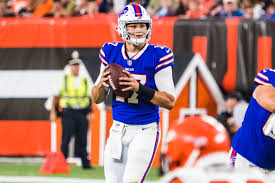 The Buffalo Bills completed their historic season following a devastating loss against defending champion Kansas City Chiefs last sunday.
For the first time in 27 years, the Buffalo Bills made it to the Conference Championships prevailing over the Baltimore Ravens in the AFC Divisional round 17-3. This win sent the Bills to the AFC Championship to play the Chiefs for a spot in Super Bowl LV.
Even with the Bills recent hot streak and playoff run, Josh Allen could not lead his team to victory against the Chiefs last sunday as Kansas City defeated Buffalo 38-24. Patrick Mahomes threw for 325 yards with 3 touchdown passes, topping Allen's 287 yards with 2 touchdowns.
Buffalo's top 2 wide receivers, Stefon Diggs and Cole Beasley, were silenced by Chiefs defense as neither star could surpass 100 yards or score a touchdown.
"The Chiefs defense is pretty stacked, especially when it comes to the corners," says Clayton Spuck, '23, a football player at McQuaid Jesuit.
Although the Bills have had an incredible offensive line this year, they could not compete with the Chiefs elite defense.
Josh Allen had a record year in the 2020-21 season. Leading the Bills to their first AFC Championship since 1994 and setting Franchise records with 4,544 passing yards this season.
The Kansas City Chiefs will now turn their attention to the Tampa Bay Buccaneers, led by veteran quarterback Tom Brady, in Super Bowl LV. This will be Brady's tenth Super Bowl appearance.