Super Bowl LV Preview
Super Bowl LV brings excitement to America in a historical matchup between the Kansas City Chiefs and Tampa Bay Buccaneers on February 7th at Raymond James Stadium in Florida, making it the first professional football championship to be held during a pandemic in American history.
Tampa Bay Buccaneers versus the Kansas City Chiefs bring excitement and question throughout fans and sport lovers. The young Patrick Mahomes, 25, looks to claim a Super Bowl title back to back years. With Tom Brady, arguably the best quarterback to play the game stands in Mahomes' way to this title.
The NFC Championship round was exciting and had twists that nobody expected. Green Bay was predicted to win the championship and the Super Bowl by many, with an upsetting and unpredictable turn around. Aaron Rodgers now holds the NFL record of losing four consecutive NFC championships. According to Zach Kruse from Packer's Wire, the Packers have played in 43% of all NFC Championship games, with a record of 3-6.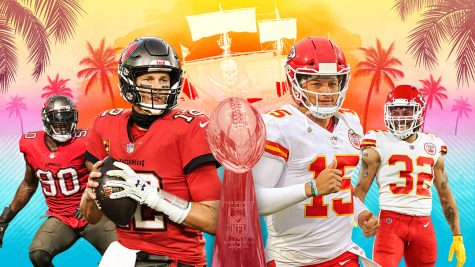 Tampa Bay makes history by being the first team to play the Super Bowl at their home field. Led by Tom Brady, Tampa Bay looks to grab their second Super Bowl title led by many guys who have faced the big game before.
According to Tampa Bay, nine of the players on the team have seen or won a Super Bowl, and eight coaches have either played or coached a Super Bowl team. Tampa Bay is looking to show their talent off with many notable past and present NFL stars against Kansas City.
Kansas City looks to claim their third Super Bowl title ever, and their second back-to-back title.
Patrick Mahomes leads the most explosive and elusive offense in the 2021 season. The Chiefs look to win back to back Super Bowls, not done since the 2003-2004 Patriots led by Tom Brady. With Travis Kelce and Tyreek Hill both being arguably the best at their positions, this brings a tough matchup to Tampa Bay.
Kansas City goes into the Super Bowl with a 3 point spread over Tampa Bay.
With a matchup in Week 12 between the teams, Kansas City beat Tampa Bay with a score of 27-24. With how efficient and productive this Kansas City offense is, without starting left tackle Eric Fisher, the blitz heavy Tampa Bay defense could have an easier time getting to Mahomes. This Super Bowl matchup is definitely one for the history books, with the "G.O.A.T." Tom Brady facing one of the biggest challengers to his legacy yet.