Section V Basketball Returns Amid Covid-19
Basketball players in Section V have been given the opportunity to compete for a title in an abbreviated version of the 2020-2021 basketball season.
The abbreviated season has been different from past seasons. The Knights have 13 games on their schedule within the time span of one to two months. Games are being played on back to back nights and every other night with a short time to prepare. In addition, players are playing with masks due to Covid-19.
"This season is kind of different because we are playing a lot of games and we have less practices to prepare for the next games and upcoming games. And we also have no fans so that's a big factor,"  says McQuaid Jesuit senior guard Keith Warren Jr.
McQuaid Jesuit High School is in competition in the Section V basketball race to a sectional title. The knights have started the season off 7-3. The Knights have defeated Webster Schroeder, Wilson, UPrep, Edison, Bishop Kearney and took care of East in a second matchup. They fell short against East, Leadership, and Aquinas. The team is currently in contention for the eighth seed in order to make the playoffs to have a chance to win a Section V title.
Warren is currently averaging about 28 points per game along with 6 assists and 7 rebounds. He is leading the team in many major statistical categories. Without a doubt McQuaid's opponents are trying to find ways to slow him down. Warren faced numerous double-teams and traps all night long against Aquinas Institute, and still managed to score a team high 25 points.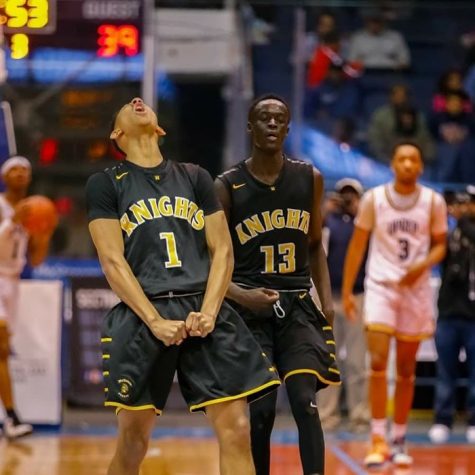 "Usually on the nights before games or on off nights I usually take a[n] ice bath just to regulate the body and keep it back to its original self. And I also ice my ankles and other parts of my body just so I can stay fresh and stay ready" says Warren Jr.
As a result of the tremendous workload of this season athletes such as Warren are forced to take care of their bodies more than usual. They must be able to perform at a high level for 32 minutes every night in order to win and contribute to team success, and because of this game-heavy season this becomes even more important.