Underdogs
Lacrosse Knights' win column grows as they continue to fly under the radar
It has been a long 11 months since last May when the championship-hopeful Lacrosse Knights fell to a powerful Webster Schroeder team in overtime.
A loss such as this one can destroy a program, creating negative energy, and a poor work ethic. Yet this year's Lacrosse Knights seem determined not to let last year's defeat define them.
There is reason to believe in this year's Lacrosse Knights, who return eight seniors to the roster including two Honorable Mentions from last year's Democrat and Chronicle "All Greater Rochester Team" in Jon Gaglio and Ryan McEvily.
Head Coach Terry Corcoran will begin his second year as the McQuaid Head Coach after 38 years of collegiate lacrosse coaching experience. He sports a career record of 279-204 (.578) to rank eighth all time among NCAA Division III. Corcoran has led 11 programs to the NCAA Division III tournament, including four appearances in the national championship game.
Winning a Class B Sectional Title will be no easy task, as everything goes through the powerhouse that is Victor Lacrosse. However the Knights scrimmaged the Blue Devils earlier this year and proved that they belong on the same field as the defending state champs narrowly falling 10-8.
However, the knights are not scared off by the laundry list of sectional titles that the blue devils boast.
"Victor is an excellent team, but they are definitely in our reach," junior defender Ryan Martin said. "A month and a half is a long time to fill in the gaps and fix the mental errors we have sometimes. I know they have the weaknesses, and we have the talent to give Victor a run for their money."
The Democrat and Chronicle recently published a "30 Players to Watch List" for Section V Lacrosse, not one of the 30 being a student at McQuaid Jesuit.
The Knights aren't worried about individual accolades or outsider predictions. They are intently focused on the team goal.
"We work hard everyday at practice," junior Alex Klimowski said. "We are getting better and better each time we step onto the field. If we just worry about our game and do the little things right we could go pretty far."
Midway into the season the Knights are 8-2, with their two losses coming at the hands of teams outside of Section V (Baldwinsville, Section III) and (Corning, Section III).
The Knights' success can be directly linked to the tremendous amount of depth on the roster. Fourteen different Knights have scored during this 2019 season, with no discrepancy among grades. Freshman Paul Chiarello has contributed 4 goals and 3 assists for the Knights this year in his first year on varsity. Senior Ryan McEvily has scored a whopping 28 times this year, while junior Nick Opett is the team assist leader with a league-leading 15.
The Knights have six regular season games remaining, including five at home, and will end the season on May 16 against Bath High School.
About the Writer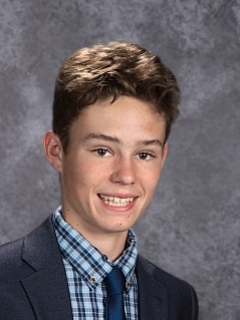 Henry Trost, '20, Staff Writer
Trost came to McQuaid Jesuit as a freshman. He is a member of the varsity cross country and track teams, and he enjoys watching all types of sports. He...