Football Knights Remain Undefeated
McQuaid finishes regular season 7-0, number one seed in Class AA.
The McQuaid Jesuit football Knights defeated Aquinas for the first time in 13 years on Saturday, Sept. 7, 2019 at Frontier Field and the winning has not stopped there.
 Head Coach Bobby Bates and the Knights have remained undefeated on the season. Beating the likes of Webster, Rush-Henrietta, Hilton, and Pittsford to top the NYS Section V polls and make a push for a sectional title. A title win this year would be McQuaid's first in 41 years, an accomplishment like this will be talked about for years to come. The Aquinas victory has definitely set the tone for an undefeated season.
Team captain Jordan Brongo, '21 shared his thoughts on the Aquinas victory and what it meant: "Beating Aquinas was one of the best feelings ever, considering how everyone doubted us from the beginning and having lost to them 13 years straight was a really great feeling."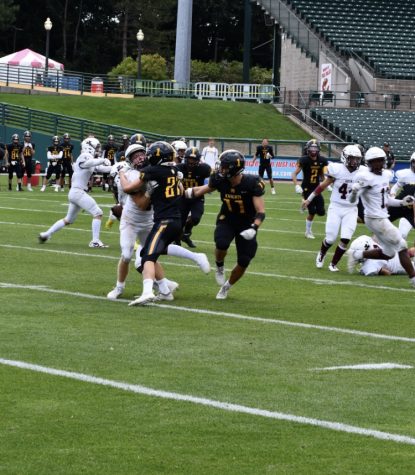 Brongo even himself is a little surprised but for the most part extremely excited to be undefeated so far this year: "To go 6-0 and to be as dominant as we have been has surprised me a little bit. Our team works very hard though and we know it takes a lot of hard work to be where we are right now. The coaches along with the seniors have done a great job at leading us."
Head Coach Bobby Bates, in his seventh season, as McQuaid's head coach has done a great job leading this team to an undefeated record. Brongo shared his thoughts on his head coach and the coaching staff as a whole: "I love his passion for the game. He shows up everyday and justs wants to win…. he works us hard  along with all the other coaches like Coach Parker, Coach Thompkins, Coach Parisi and just all the coaches push us hard to win."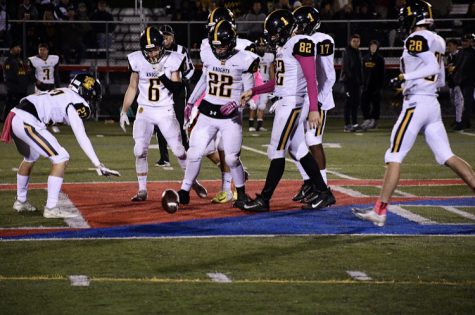 ---
Indeed the Knights have proven the critics and other teams wrong. McQuaid will be the number one seed for class AA going into sectionals. There are the likely favorite to win the sectional title. Brongo though does not believe the season ends there, this team is thinking even bigger: "I definitely think we have a shot at making a state title run. Aquinas won states last year and if we can beat them in the sectional title we will make a statement and make a run to the state title."