Simba Helps Rally Football Knights to 7-0
Simba Society's energy helps boost football team in first win over Aquinas in 13 years.
The McQuaid football knights are now 7-0 with their most recent victory over Fairport. As the football team blows past opponents, Simba Society is right next to them to cheer them on. Simba's crowd this fall has been massive, and continues to grow as the season goes on. 
The team's success started on Sep. 7th at Frontier Field when the Knights took a huge win against last year's state champions, Aquinas. At the game was one of the largest student sections in McQuaid history. As the final seconds ticked by, McQuaid's Simba Section went insane.  After shaking the opponent's hands, the McQuaid Knights ran over to celebrate with the Simba section.
When asked what is his favorite moment with Simba, Timothy Oberlies, senior at McQuaid said, "Without a doubt the celebration after the win over Aquinas at Frontier Field. It was just an electrifying atmosphere. Simba rushed the field and celebrated with the whole team. It was something I will remember forever."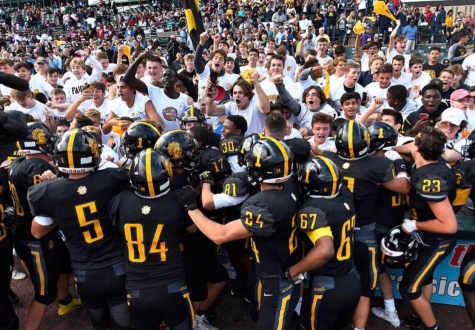 When asked to describe the atmosphere at the games, Oberlies said " I can always feel their presence at games. It's both comforting and exciting to hear my guys cheering me on and ripping our opponents apart."  
During the games, Simba members start chants such as chanting players names and many more. One of their most famous and rowdiest chants is when they sing "Everytime We Touch" by Cascada. As Simba chants for the team, the players are able to take Simba's energy and use that energy on the field.
The Simba section is McQuaid's cheering section, and is known as one of the best in Section V. Simba leaders Andrew Thomas and Alex Klimowski have taken the Knights above and beyond. More kids are going to the games than ever before. As the football Knights dominate, the cheering section continues to grow.