Andrew Passero Steps up for Football Knights
McQuaid Knight's running back and captain Andrew Passero helps the Knights win their first sectional title since 1978.
The football Knights have always been inferior to their rivals the Aquinas Institute. Most McQuaid fans thought this was just going to be another year we lost to Aquinas in football. However, the Knights thought differently about this year. They had something to prove to not only their fans, but everyone who doubted them. 
The football Knight made history this year. They are the only football team in McQuaid history to ever defeat Aquinas 2 times in a single season. This completed McQuaid's first ever undefeated season at 10-0.  The football team that won sections in '78 lost to Aquinas in the regular season, but defeated them in sectionals. 
Andrew Passero '20 came up big this year for the football team. Passero was asked about his thoughts on the season and had this to say, "We lost a lot of talented seniors last year including my cousin at running back. I knew me and the other seniors had to step up and lead on the team" and that is exactly what they did.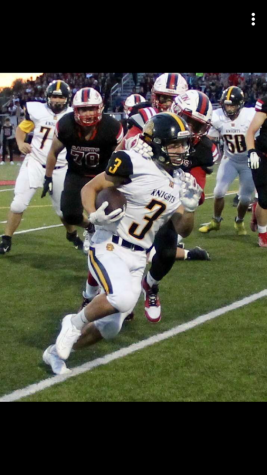 Last year Andrew was not able to start at his preferred position of running back due to his cousin, Mark Passero, being the starter as a senior. Andrew was asked how he felt about being able to play his natural position this year, "I've always played running back as a kid and on JV, however last year on Varsity I was not able to do so. My cousin Mark also played running back and was the preferred starter. I was frustrated but I knew that this year would be my year to shine, which is what I have done and will continue to keep displaying." This year, Passero has racked up a total of 20 touchdowns this season. 19 on offense and 1 on defense. 
The Knights competed with Lancanster in the Regional championship and came out on top 32-28 in a well fought battle. They now go on to play semi-finals for states against Cicero-North Syracuse. 
The Knights are in the running for a state championship. If they win the state championship they will be the first ever team to do so in McQuaid football history.
Best of luck to the Knights on their quest to greatness!