Pulisic, Best American Soccer Player Ever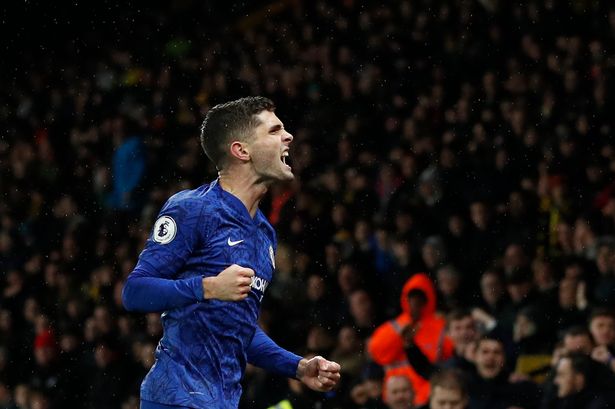 Christian Pulisic, from small town Hershey Pennsylvania is having a breakout season in the English Premier League. At only 21 most people think he is the best player to ever come out of the US.
His parents Mark and Kelley Pulisic both played soccer at George Mason University where they met. His dad later played in a professional indoor league for a few years and coincidently coached the Rochester Rhinos for a period of time. They both love the game, but were very keen on making sure they did not push it on to Pulisic as a child, as Mark told Philly.com, "We almost pushed him in directions other than soccer." Either way, he immediately loved soccer and played all the time. 
Pulisic was noticeably talented at a young age in soccer. When he was 7 years old, he moved to England for a year with his family. There he played for the town club Barkley about eight miles outside of Oxford. Pulisic told The Daily Mail, "A lot of people don't realise but it really brought on my passion for the game. I just started to love it so much and I said: Wow. I'm pretty good! I think I can do something with this game.'" 
After moving back to his hometown in Hershey Pennsylvania he soon joined PA Classics. He thrived there, getting better and better was quickly put on the national team's radar. 
When he was only 13 he played for the u15 national team and went on to score 21 goals in 28 international appearances. The u20 national team head coach Tab Ramos told Sports Illustrated, "You watched the game for about five minutes and you realised that everybody was playing through him. And the pace of the game was completely run by him."
More and more coaches and teams started to notice him and his parents realized that the best thing for him was to send him to a club in Europe. They decided on sending him to Borussia Dortmund in Germany, because of their heavy focus on their youth. 
To get him there as soon as possible, his grandfather Mate who was a citizen of Croatia helped him get an EU passport. Otherwise who would have had to wait until he was 18 to go there instead of going when he was 16 like he did. These are very important years for players and he improved a lot in Dortmund. 
After a year in their academy at just 17 Pulisic was moved up to the first team.  On his first professional debut he was 17 years and 133 days old. Soon after he became the youngest American player to play in a UEFA competition. He then became the USA's youngest goalscorer in Germany, the youngest American to win a Major European League trophy, and was named the US Men's National Team player of the year in 2017. These are a few of the awards he racked up before he was even 20.
After having a lot of success in Germany, just this past summer English Premier League team Chelsea signed him for $73 million dollars, making him the most expensive American player of all time. Some people had doubts on how he would do on such a good team in what most people say is the best league in the world. Not only that, but Chelsea also signed many other extremely good young players from their own youth academy like Mason Mount, Tammy Abraham, Hudson Odoi, and a few others. This means there is always a fight for playing time. 
Pulisic has kept working hard and focused on his game, and the 21 year old has scored five goals and has two assists in nine appearances including a hattrick against Burnley. He is an enormous part to the team and this is just the start, the world is excited to see what comes next.