Fred VanVleet, Underdog to NBA Champion
After an underrated NBA season, Fred VanVleet showed the world his part during the Toronto Raptors championship run. 
After playing four years of college for Wichita State, expectations weren't high for Fred VanVleet. 
According to Rookie Wire, Fred VanVleet had the opportunity to be a second round pick.
VanVleet was reluctant to accept the offer because he would have to play in the G-League. VanVleet was confident to sign with an NBA team. 
His dream came true when the Toronto Raptors signed him as an undrafted free agent in 2016. 
VanVleet appeared in 37 of the 82 games that year. During this stretch he averaged 2.6 points and 0.9 assists.
The following season, VanVleet took a step in the right direction.
In his 20 minutes per game, VanVleet averaged 8.6 points and 3.2 assists. VanVleet ended up as one of the finalists of the 2018 Sixth Man of the Year. 
Although he failed to win, Raptors general manager Masai Ujiri, was pleased by VanVleet.
In July 2018, Fred VanVleet agreed to resign with the Raptors for a two-year deal worth $18 million. 
Masai Ujiri decided to make other big moves in the off-season. Masai traded franchise star, DeMar DeRozan to the San Antonio Spurs for Kawhi Leonard and Danny Green. 
At the time, Raptors fans were doubtful about the decision. Kawhi Leonard was injured the previous season and Danny Green was progressing in age. 
Age wasn't a factor for the Raptors front office. Masai Ujiri made another trade for 34 year old Grizzlies center Marc Gasol. Masai said, "Marc brings significant playoff experience to our tea, which along with his savviness and leadership skills really helps position us for our ultimate postseason goals."
As VanVleet averaged 11.0 points and 4.8 assists in his third season, Masai Ujiri's decision looked like it paid off. 
The Raptors ended their season as the second seed in the Eastern Conference. Although the Raptors looked good early in the playoffs, the same can't be said of VanVleet. 
In his first 15 games of the playoffs, VanVleet averaged 4 points in 20 minutes. 
Even with a series of bad games by VanVleet, the Raptors still managed to make the Eastern Conference Finals. In that series VanVleet averaged 14 points in 32 minutes. 
Many fans speculate that the change of VanVleet's offense was caused by the birth of his child. Fred VanVleet believes the reason he played well was by his open looks in the game.
Fred VanVleet continued this offense play until they won the 2019 NBA Finals. He scored 22 points in the final game. 
The Lance had the opportunity to speak to passionate NBA fan, Jason Burkhard '22. Burkhard is a fan of Russell Westbrook of the Houston Rockets. He loves Westbrook due to his competitive spirit and how he works through the hate.
Working through the hate is like Fred VanVleet's motto, "Bet on Yourself."
According to what VanVleet told TSN, "the phrase came from necessity." Using the phrase, VanVleet strives to avoid negativity from doubters. 
Before the interview began, I discovered how other NBA players were paid in comparison to VanVleet. According to Basketball Reference, rookie, Zion Williamson was paid more than VanVleet. 
Despite not playing a single NBA game, Zion Williamson has a higher salary than an NBA champion.
When I discussed this with Burkhard, he elaborated his thoughts revolving Zion Williamson.
"I heard some things about Zion being a bust, but being injury prone, but he's going to be out, unbelievable, but I think I mean he's a rookie, a rookie deal." 
VanVleet is currently averaging 17.7 points and 7.6 assists and is proving how he is the league's next rising star. 
Fred VanVleet at Wichita State, Free-Use Picture from Wikapedia Commons.
All Stats excluding any salary amounts (Zion Williamson and Fred VanVleet) were from NBA.com
About the Writer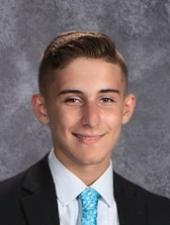 Marco Barcellona '22, Staff Writer
Barcellona came to McQuaid in ninth grade and now is in the 10th. His favorite subjects in school are Math and Science. He is a fan of the Buffalo Bills...