McQuaid Continues Historic Run in State Playoffs
McQuaid Jesuit's football team continues their State playoff run as they play in the semifinals against Cicero North-Syracuse at Cicero's home turf on Nov. 23. 
The McQuaid Jesuit Knights (11-0) defeated their rival Aquinas Institute (8-2), 30-27, in the Section V Class AA championship game. The win gave McQuaid's football program their first sectional title since 1978.
McQuaid previously beat Aquinas in the season opener at Frontier Field on Sept. 7 and proved their strength in the championship game by knocking out the Little Irish once again to remain undefeated. Kickoff was at 8:00 p.m. on Saturday Nov. 9. Despite the freezing cold temperatures, both teams battled fiercely to the very end. 
"We did what we normally do. It was just another game on our schedule. We played the exact same thing and that's why we won." Said McQuaid's Casey Howlett '20 about the week leading up to the championship game.  
The game came down to the final minutes. With a little over two minutes left in the game, the Knights gave the ball to junior Joe Cairns for the quarterback sneak who converted on a crucial fourth-and-1.
Senior Andrew Passero led the Knights with 34 carries for 243 yards. Passero was also voted the game's MVP.
The Little Irish never made it easy for the Knights at any point throughout the game. Aquinas' junior quarterback Tyler Szalkowski passed for 318 yards and completed 17 throws out of 34 attempts. 
McQuaid then played Lancaster in the Far West Regional game. The game, which was played on Nov. 16 at 6:30 p.m. at the College at Brockport, resulted in another win for McQuaid.
Lancaster was also a tough opponent for the Knights, but fell short 32-28. McQuaid senior running back, Andrew Passero finished with 24 carries for 71 yards. Passero also had 103 receiving yards and two touchdowns.
In the first half, McQuaid's senior wide receiver, Casey Howlett, returned a kickoff 82 yards for a touchdown that tied the game with the extra point. The Knights' junior quarterback Joe Cairns passed for a total of 148 yards and completed 11 of 21 attempts. 
"Being a team is a big thing. Throughout the whole year our team chemistry is what helped us win a lot of our games. Just that we're all really good friends on the field and off the field creates for good chemistry. It allows us to trust one another, which in turn makes us do our own jobs and not have to worry about each other, filling in for each others mistakes," added Howlett. 
McQuaid looks to reach the State championship game for the first time ever which will be played at the Carrier Dome in Syracuse, New York. McQuaid will have to get past a tough Cicero North-Syracuse team in order to reach the championship game.
McQuaid will now play Cicero North-Syracuse in the Class AA West State semifinals at Cicero North-Syracuse at 6 p.m. on Nov. 23. 
About the Writer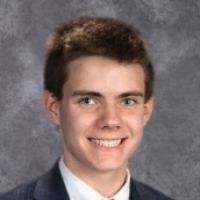 Nicholas Howlett '23, Staff Writer
Howlett came to McQuaid Jesuit in sixth grade and currently plays football. He also plays lacrosse and basketball. He is a fan of college basketball and...