Fans Are Back!
Simba Section Leads the Charge at Sporting Events
The rowdiest, most entertaining student section in Rochester is back, and they haven't skipped a beat. Packing the seats at each McQuaid game, the Simba section has been roaring louder than anyone else.                 
It had been over a year since fans were able to watch their beloved Knights in black and gold. So when restrictions were lifted and fans were allowed back, you better believe the Simba section was bumping.
Players have been missing that factor of the game.  They feel that playing for their peers and for their school is half of the fun.
"Simba one hundred percent affects how we play," senior wide receiver Joey Leuzzi said. "They are our 12th man out there."
Not only is Simba known for their strength in numbers, they are also known for their creative, patented chants. Senior Hunter Smith, who has been to every football game, agrees.
"Nothing beats the Johnny Dimes chant after Mahar throws a touchdown," Smith said.          
The Simba section has not seemed to skip a beat and has had many great moments already this season.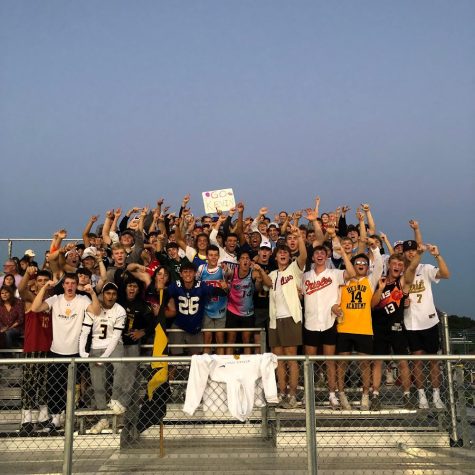 McQuaid senior C.J. Phelps said his favorite moment so far was "beating Victor in football on their senior night and being louder than the home crowd."
Whether it is football, soccer or volleyball, Simba has made their presence known in fall sports throughout Rochester. From 6th graders to seniors, all of Mcquaid gets to pack the stands and cheer their brothers on, and it has been great.