New Staff Members Join McQuaid
At the start of the 2021 school year, McQuaid Jesuit welcomed four new staff members: Mr. Michael Dybas, Ms. Andrea McLaren, Mr. Shawn Nally and Ms. Joelle Mendola. Mr. Michael Dybas is the director of finance, Ms. McLaren is the administrative assistant for middle school, Mr. Nally is the assistant athletic director, and Ms. Mendola is the 6th grade aide.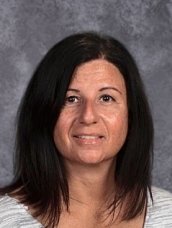 Ms. McLaren has been at McQuaid for 2 months after working at St. Lawrence elementary school. She described her everyday tasks as giving out late passes, organizing retreats as well as evening activities, helping students with their lockers and schedules, along with supporting Mrs. Dacey, the middle school dean. 
Ms. McLaren felt positively about many aspects of McQuaid so far.
"The faculty and staff are all amazing, as are the students," Ms. McLaren said.  "The sense of community is wonderful.  And of course, the cafeteria!" 

Ms. Mendola has also been at McQuaid since the beginning of the school year. She previously worked as a speech-language pathologist and is from Lancaster, NY. Her job duties include aiding 6th grade students and assisting classes depending on which ones need help on any given day.
"It has been so nice to meet all the students and teachers here at McQuaid and to see from the inside what makes McQuaid so special!" Ms. Mendola said. 
Mr. Shawn Nally '15 started working for McQuaid in September of 2021, after previously working as a graduate assistant at Springfield College in Massachusetts. As the assistant athletic director, he is responsible for a lot of activities related to athletics such as scheduling athletic events and contests, helping athletic director Mr. Jon Matt '02, and providing administrative support.
"I have thoroughly enjoyed being back at McQuaid as an employee," Mr. Nally said. "It has been awesome to work alongside Mr. Matt, our coaches, and our faculty and staff."