McQuaid Introduces New Alumni Program
The McQuaid Alumni Corps (MAC) is a new program this year, and it's bringing former students back to campus.  As a part of Knight Quest 2030, McQuaid plans to have Alumni outreach programs here at school and around the country.
The vision of this program is to build an on-campus service corps to engage new college graduates in the workplace. These volunteer corps members receive a monthly stipend for their service.  Nationwide, McQuaid plans to have regional alumni groups to create networking for alumni businesses and career connections.  
McQuaid principal Mr. Adam Baber is excited about the future of this new program. "It's an opportunity for recent alumni to give back to their alma mater and serve in a variety of capacities," said Mr. Baber. "They help with a lot of different projects."
"It's always good to have young alums present in the building, because they're just out of college and only four or five years older than the seniors," Mr. Baber said.  "They can relate in a way that some teachers maybe can't as easily."
Fr. Phillip Judge, S.J., thought of the idea in his first year back as president of McQuaid. 
The inaugural member of the MAC is Mr. Ben Bogdan '17.  Mr. Bogdan graduated from Holy Cross in May 2021 with a major in Psychology. The Alumni Corps will be a one-year program for him.
"The McQuaid Alumni Core is an opportunity for the alumni representative, me, to gain experience in a number of areas that this school can offer," said Mr. Bogdan. "My responsibilities vary depending on which administrative building I am given my duties from on a day-to-day basis."
Mr. Ben Bogdan is very glad to be back in the building. "Hopefully it's an opportunity that benefits the school to have a young alumnus in the building," he said.  
Mr. Bogdan is hoping this is a step on his way to a future career path. "I'm using this time to try and figure that question out. I am basically sure that I want to move somewhere new," he said. 
Next year an alumnus, or perhaps two, from the Class of 2018 will replace Ben Bogdan, but for right now we are happy to have him and a great start to this program.   
About the Writer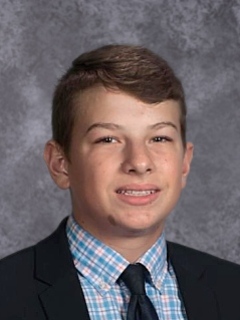 William Rappold '24, Staff Writer
Rappold is a member of the Class of 2024 at McQuaid Jesuit and joined in 7th grade. He is a member of the McQuaid volleyball program and is an honor roll...