'Dear Clayton…'
Mr. Demers Delivers Moving Speech at Agape Latte 12.0
Mr. Demers filled the stands with people as he gave a heartfelt speech on November 9 in the Wegman Center Atrium.  Entitled "Dear Clayton," the talk inspired students to reflect and think about how they live their lives.
The Agape Latte is a monthly speech done by a speaker that is given a safe environment to speak about something important to them that is centered around a faith based discussion. This program was brought to McQuaid following a trip students made to Boston College to learn more about Jesuit life. 
Mr. Demers was asked to give the monthly Agape Latte, which he decided to make a letter to his son, Clayton. Clayton was born with a heart condition that did not allow him to eat. After countless surgeries over multiple years, Clayton is still on the path to recovery. 
The speech was heartwarming, motivating, and brave. Mr. Demers feels proud of Clayton, claiming that he was his motivation to do the speech.
"It introduced Clayton to the world in a way I think he deserved," Mr. Demers said, speaking about how much Clayton has taught him. "Clayton does really teach me to be the best version of myself."
Clayton took part in teaching everyone how to be better versions of themselves.
Agape Latte is run by Mr. Nathan Drahms, the Director of Retreats & Worship at McQuaid.
"Each speaker brings their own personality to the talk, and I think that Mr. Demers is a gentle, bright, kind, caring and faith-filled man," Mr. Drahms said. "You can see that in his message. Mr. Demers' speech was an incredible message that showed everyone where they can find God in their lives."
About the Contributor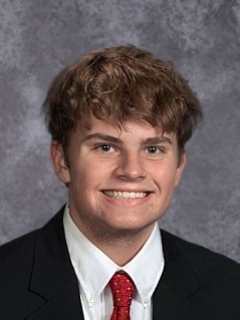 Aidan Hanna '23, Staff writer
Hanna came to McQuaid Jesuit during his sixth grade year. He is a member of the varsity volleyball team. He enjoys playing beach volleyball and going fishing...