McQuaid's BASH Fundraiser to Return In-Person
BASH is the biggest fundraiser of the year for McQuaid Jesuit, and it is returning to the Deborah & John Dimarco '60 Field House for the first time since March 2019. After being canceled due to Covid-19 in 2020, and being held virtually in 2021, BASH returns this year as an in-person event. 
BASH (Building a Scholastic Heritage) headed by the Advancement department stands as the most important fundraising event of the year for McQuaid. Including both a silent and live auction as well as dinner, BASH attracts a plethora of parents, volunteers and staff members to the DiMarco field house every year.
Mrs. Heather Whiting P '25 '27 is the Director of Special Events and Parent Relations, meaning a large portion of BASH falls under her supervision. The return to being in person has her very excited this year.
"To be honest, there has been a major weight lifted off my shoulders to have BASH in person this year!  The generosity of our community for our upcoming, in-person BASH has been outstanding," Whiting said. "I think one of the reasons that our fundraising has been successful and fruitful is because of the excitement of the return of our traditional, in-person, BASH event."
Arriving at McQuaid as a BASH attendee and seeing other members of the school's community are some of the most crucial parts of the night.
"I think our strengths align with community event planning or in person celebrations and executing a virtual BASH eliminates that interaction," Whiting said. "One of the key and essential elements of BASH are the interactions, relationships, and comradery that all members of the McQ community get to share in one special weekend."
BASH online can be difficult to get through without the in-person brotherhood shown by student volunteers and alumni attendees. "The return of in-person BASH will unite McQuaid in a special way, bringing together parts of the school that have not felt as connected in over two years!" Mrs. Whiting said.
Volunteers and Staff  might be the biggest part of the night. Without them the show never gets on the road. Mrs. Whiting has done great work along with what will be the great help of others the night of BASH.
"Overall, my job is to be a connector who activates and energizes our generous chairs, donors, faculty, staff, students, and administration, all to build a community that strives to support the mission of our school both spiritually and financially," Mrs. Whiting said.
"At this time, the Advancement Team puts the finishing touches on the BASH program, video, and website to ensure all donated items are ready for viewing.  We also prepare over 300 volunteers to help execute jobs as accurately and swiftly as possible," Mrs. Whiting said.
With COVID possibly entering hindsight, BASH is what the school needs to finally feel like McQuaid again. With this feeling of renewal, come the students who once again will volunteer on Saturday, March 26, the night of the event. 
Kevin Giacobbi '24 is a waiter at this year's BASH celebration who is highly excited to be serving his school community for the first time at this fundraiser.
"I am very excited to be a waiter at BASH this year because I think it will be fun to serve parents, alumni, and many other appreciated guests and show them how grateful McQuaid students are to have them as supporters for our school," Giacobbi said.
Giacobbi also enjoys the return of the in-person system that will take place here at McQuaid.
"I do believe that having an in-person BASH will be good for the McQuaid Jesuit community because it will bring an uplifting atmosphere, which is good for people that were down in the dumps during distance learning and bring an overall good spirit over the school for holding a big event on campus," Giacobbi said.
BASH 2022 is on track for success because of the collaboration with the Advancement team Judy and Mike Pribe P '20 and the incredible BASH Chairs, Mariah & Anthony DiMarco, '94, P '23, '25, '26, Lisa & Anthony Soprano, P '16, '23, and Erinne & Greg Woodard, '88, P '23, '24, '27.
About the Writer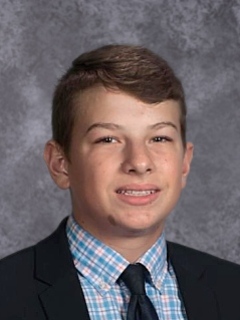 William Rappold '24, Staff Writer
Rappold is a member of the Class of 2024 at McQuaid Jesuit and joined in 7th grade. He is a member of the McQuaid volleyball program and is an honor roll...