Mr. Bonfiglio Joins Math Department
This year McQuaid Jesuit welcomed Mr. Robert Bonfiglio to the math department.  Mr. Bonfiglio teaches one section of seventh grade math and three sections of Intro to Calculus, at both the regular and advanced levels.
While this is his first year teaching at our school, in many ways he has always been a Knight.  Mr. Bonfiglio graduated from McQuaid in 2012 and, after high school, went to Oberlin Ohio, majoring in Mathematics and Comparative American Studies.
Mr. Bonfiglio is an open supporter of and advocate for the arts and is already involving himself at McQuaid with extracurriculars, helping to produce the most recent McQuaid production Our Town and assisting with Model UN. Mr. Bonfiglio also enjoys the music of the late great Leonard Cohen and the singer-songwriter Joni Mitchell, as well as the books The Catcher In The Rye and Watership Down.
Mr. Bonfiglio isn't all about the arts, however.  He is a loyal follower of division three women's basketball and has played, and continues to follow, many sports throughout his life, including water polo.
Mr. Bonfiglio has been enjoying his time here so far at McQuaid and can be found in room 053 during Flex to answer any questions about mathematics and/or Leonard Cohen. We are proud to have Mr. Bonfiglio as a part of the McQuaid Jesuit family for the second time.
About the Writer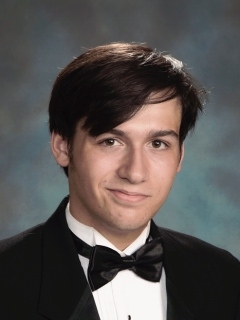 Ethan LaFranco, '19, Staff Writer
LaFranco came to McQuaid Jesuit in 2012 as a sixth grader.  He is part of the Ultimate Frisbee Team and the Competitive Gaming Club. His other interests...