Knights Compete at New York State Championships
McQuaid Track and Swimming wrap up season with stellar States performances
Some of McQuaid Jesuit's top athletes were on display March 2 with both the New York State Swimming Championships as well as the New York State Track and Field Championships held on Long Island and Staten Island respectively.
McQuaid Indoor Track was well represented at States with senior Abel Hagos, senior Gabe Gelke, junior Ryan Martin, as well as the entire 4×400 relay team.
Hagos portrayed extreme tenacity, competing in both the 1600 meter and 3200 meter on the same day. Running a time of 9:13 in the 3200, Hagos came back two hours later to run a 4:28 in the 1600, earning him an 11th place finish in the state. His 3200 time earned him a third place finish as well as the new school record, breaking Donny Glavin's, '16, time of 9:19.
"I just enjoy competing and testing my limits to see how much I can improve. I think the key is setting harder goals," Hagos said. "My goal was to run sub 9:10 at states, but I was still happy with the 9:13."
While most would be satisfied with a school record, Hagos continues to run personal bests every season.
"It feels great to join the ranks of elite runners in McQuaid history," Hagos said. "It motivates me to train harder and run even faster and hopefully break more records in outdoor."
Joining Hagos at States was the 4×400 relay team, consisting of senior Chris Ryder, juniors Casey Howlett and Andrew Passero, and sophomore Sam Perozzi. The relay team finished with a time of 3:32.50 making them the seventh fastest in the state.
Junior Ryan Martin represented all of Section V at States, running the 1200 meter leg of the Distance Medley Relay (DMR). The other Section V representatives paired up with Martin for the weekend were Ben Dertinger (Webster Schroeder), Conor Preston (Victor) and Jay Glenn-Harris (Franklin).
Even with different teammates and a different uniform, Martin never lost his competitive edge, helping the team to a finishing time of 9:22.
"It is an indescribable bond to have when running that relay with people you don't know," Martin explained. "We're all running a different distance, we all have different goals, but for the six hours I was in that track facility, I was brothers with guys who I had never spoken to. And we all had the same goal, to win."
While these Knights sprinted around the track, senior Gabe Gelke was representing McQuaid in the ever impressive Weight Throw. Gelke's best throw of the day landed at 54-06.75 feet, placing him 14th in the state.
Meanwhile just an hour away, junior Max Murray was representing McQuaid in the swimming pool at Nassau County Aquatic Center on Long Island.
Much like Hagos, Murray was also double-eventing, competing in the 500-yard freestyle as well as the 100-yard backstroke.
The 500-yard freestyle is the longest distance for an individual event offered by New York State High Schools, yet Murray dominated, swimming a time of 4:40.90, making him the seventh fastest in the state that day.
"The 500 is difficult for swimming because it is the only true distance event we swim in high school," said McQuaid Jesuit head swim coach Ryan Hare. "Most of the events are 100-yard sprints, so swimming an event that is five times that can be difficult to pace for."
To succeed in such a difficult event requires certain characteristics, including natural talent, endurance, and most importantly, mental toughness.
"I think Max is able to compete in the long distance events for two reasons," Hare said. "He has a constant drive to be better, and he is pretty even keeled. He always trains at practice with a goal in mind and works hard to get there."
With the winter sports season all but wrapped up, the McQuaid Knights proudly represented their school on an elite stage.
About the Writer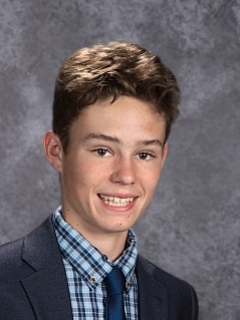 Henry Trost, '20, Staff Writer
Trost came to McQuaid Jesuit as a freshman. He is a member of the varsity cross country and track teams, and he enjoys watching all types of sports. He...