McQuaid Coffee House Approaches
BASH Coffee House at McQuaid is a tradition where musical talent is recognized as McQuaid and Mercy students hit the stage to sing, play, and perform their way through the star-studded night. This year's celebration kicks off BASH weekend on Friday, March 22.
The elimination of Friday Fun Night at this year's BASH weekend elevates the Coffee House to the premier Friday night event.
McQuaid Director of Special Events and Parent Relations Mrs. Heather Whiting explained the significance of the event.
"Having it as the start to BASH sets the tone and creates excitement for the entire weekend.  It's really amazing to see the students put 100 percent of their heart and soul into their performances," Mrs. Whiting said.  "Overall, the event is so successful because of the countless hours spent by the student organizers, Tom Crowley, '20, and Spencer Dovi, '20, (who also perform during the event)!  This year, we hope to see the Wegman Center filled with students who are eager to cheer on their fellow Knights!  Pizza, Coffee, and Water will be available for purchase."
Coffee House started approximately five years ago and is meant to raise awareness for BASH and show off some great talent. "The purpose of Coffee House is to celebrate music and offer a spotlight to those who work so hard in pursuit of enhancing their talents," co-organizer Junior Tom Crowley said. The event also advertises for sponsor and venue, Lovin' Cup, a coffee shop and restaurant that hosts many local performers on its stage.
Two McQuaid students in particular are deeply involved with the event: Junior Spencer Dovi and the aforementioned Tom Crowley. Crowley answered some questions about the event and explained his and Spencer's involvement surrounding the performances and the night in question.
"Both Spencer Dovi and myself work very closely with Ms. Franca-Shelly and Mrs. Whiting in order to line up the acts, publish the poster, design a floor plan, organize a setlist, rent the equipment, host the event, and many more tasks," Crowley said.
Tom also mentioned being very excited for certain acts that are scheduled to perform. "I am quite excited to watch Carey D'Andrea and Kyle Flaherty perform together as well as Mr. Baber, Quinn Strassburg, and a bunch of Mercy girls."
Student feedback has been very positive regarding previous McQuaid Coffee House celebrations. "Coffee House's mood was very quiet and laid back. It was cool seeing fellow students showcase their talents," Sophomore Marcus Coney said.
"The performances were very cool. I enjoyed them. The music really provided a good environment," Sophomore Ryan Miller said.
BASH Coffee House will be March 22 in McQuaid's Wegman Center atrium and is looking to be one to remember. Come out and support your performing Knights, Mercy students, and McQuaid Principal Mr. Baber on the Friday before BASH weekend.
About the Writer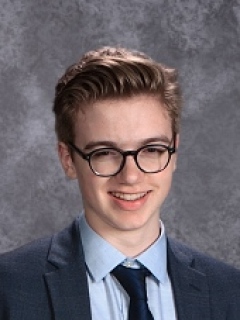 William Kelderhouse, '21, Staff Writer
Kelderhouse came to McQuaid Jesuit in his freshman year after previously attending Webster Schools. He is interested in listening to and performing all...