Staple of McQuaid Says 'Farewell'
After 26 years, Vice Principal for Academics Mr. Andrew Cavacos is leaving McQuaid Jesuit to pursue a career as Principal at St. Joseph's Preparatory School, a Jesuit school in Philadelphia.
Although many know him in his current role as Vice Principal, Mr. Cavacos came to McQuaid with more modest beginnings. After graduating from Fordham University in the Bronx, Cavacos taught at La Salle Academy in New York City until 1993.
In 1993 Cavacos made his way to McQuaid, cementing his future for the next 26 years. Cavacos was taken under Thomas Sprague's wing as a mathematics teacher. At McQuaid Cavacos taught Trigonometry, Algebra, and College Algebra. Although Cavacos began by teaching math, he soon found himself as the Dean of Students in 1999.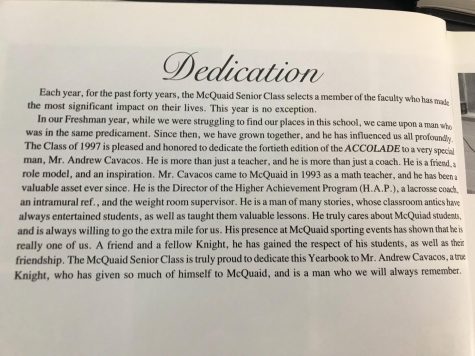 "I got into education for teaching, but you grow and change and see different needs that arise," said Cavacos. "You see different responsibilities that you may be able to do."
And that is just what he did. Cavacos saw that he could better serve McQuaid as Dean. As Dean he worked alongside Administrative Assistant to the Dean of Students Mrs. Teresa Maguire for 11 years. Over this time he and Mrs. Maguire developed a friendship.
"We had a great working relationship over the years with many laughs!" Mrs. Maguire said.
In 2011 Cavacos once again saw a need in McQuaid's Administration and became the Vice Principal as we know him today. Over the years, Cavacos began the Higher Achievement Program or HAP, which helps students from the inner city fulfill their summer school requirements. Math Teacher Mr. Daniel Brady worked alongside Cavacos in this program.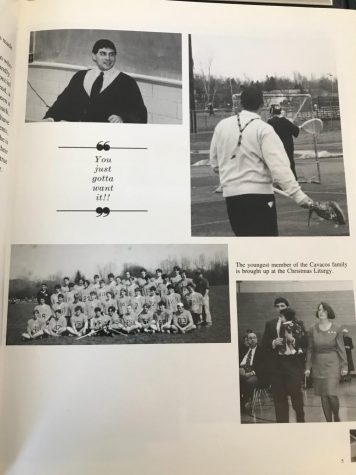 "The HAP program made summers very special and unique," Mr. Brady said. "It allowed me to get to know Mr. Cavacos in a way I wouldn't have known otherwise."
Although Cavacos has had an effect on McQuaid's Administration, he will be remembered most for his personality and his relationships with his peers.
"He's got a great combination of personality traits," Spanish teacher Jennifer Martinez said. "He can hang with the kids, and absolutely get the respect of the students. He gets respect from the faculty and the administration. We'll miss his sarcasm too."
Mr. Cavacos was also a guiding figure for many teachers. Throughout his years at McQuaid, Mr. Cavacos provided a guiding hand in assisting many of McQuaid's finest teachers.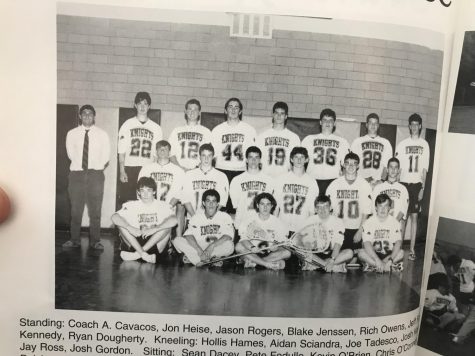 "As a math teacher and as an academic leader of the school, I just feel a sense of gratitude to him towards the way he has brought teachers like me along," Mr. Brady said. "That's a special kind of leadership."
Mr. Cavacos has been a leading figure at McQuaid for 26 years as an administrator, educator, and friend. It is safe to say that McQuaid is sad to see him go. A great leader and staple of McQuaid is saying farewell, and we are saying goodluck!
About the Contributors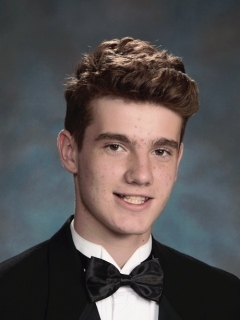 Ian Mills, '19, Staff Writer
Mills came to McQuaid in seventh grade.  He is a member of the speech and debate club and has started a Mental Health awareness program along with school...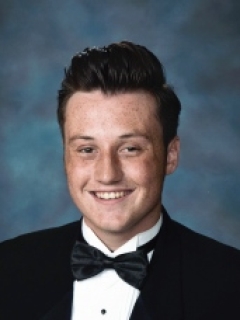 Kevin Reed, '19, Staff Writer
Reed came to McQuaid Jesuit in 7th grade and plays varsity rugby. He is a member of the Mosaic Club, as well as an established songwriter. He has released...