Leaving a Legacy: Dane Leclair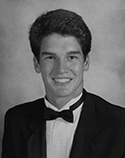 Unfortunate news struck on Sunday, Oct. 27, 2019, when Dane Wallace Leclair, '15 entered into eternal life after an accidental fall from the fourth floor of a parking garage in Lincoln, NE.
Thousands were shocked to hear such unfortunate news, and, on Friday, Nov. 1, 2019, they all gathered either in person or over live stream to attend or view his funeral at St. John of Rochester Church in Rochester, NY. Although gone physically, Dane's legacy will live on forever in the hearts of many family members, friends, students, teachers, and teammates.
Dane was an incredibly special and unique member of the McQuaid Jesuit community. He served the McQuaid Jesuit community as an athlete, admissions ambassador, and an actor. Not only did Dane flourish academically at McQuaid, but he shocked the whole community with his athletic and leadership capabilities. It is no shocker that Dane's nickname was "Great Dane."
Dane held a long list of outstanding accolades and achievements, such as being named captain of the USA Youth National Volleyball team, entering the rank of Eagle Scout, being recognized by Volleyball Magazine as one of the top players in the country, and earning Academic All-America Honors.
Dane established himself above all others as a leader within the McQuaid Jesuit community and the world around him. In addition to this, his most important quality was his ability to leave a unique impact on each and every student, teacher, or faculty member that he came across. Dane holds a special place in many members of the McQuaid Jesuit community's hearts, and, over the course of his years at McQuaid, he left a long lasting impact and legacy that compares to no other.
Mr. Robert Buhite, '20, could not help but speak out about Dane's unique impact on him and what he was like for the McQuaid Jesuit community. Buhite is a very close family friend of Dane and the Leclair family. Dane served as a role model for Buhite, and he was one of the initial reasons he wanted to come to McQuaid Jesuit in the first place.
Buhite stated, "Even though we had wildly different interests, he was always such a role model just by being a good person. He was my main inspiration for going to McQuaid in the first place because I wanted to follow in the footsteps of someone I truly felt was one of a kind."
Buhite made it clear that Dane was the ideal model for the McQuaid Jesuit man for others. Buhite stated, "Dane was unabashedly selfless, even when it wasn't always the right situation to be selfless in. He always put others' needs ahead of his own and always made sure you were okay before taking care of himself." Dane put all others above himself, a quality that few people possess.
Buhite further stated, "Dane's innate ability to communicate and connect with people on such a deep personal level and be empathetic to their struggles is what made him a man for others. He was courageous but never arrogant. He was intelligent but never elitist. He was honorable but never braggadocious. Most of all, he was always kind and always there for you when you needed him."
Dr. Christopher Parks, '90, was Dane's coach for the time that he played varsity volleyball at McQuaid Jesuit. Their relationship with one another formed into something far more personal than just volleyball. Parks stated, "He was a son to me, as ALL my players are. It is no surprise or mistake that hundreds attended his Mass of Remembrance and thousands more watched it via livestream. He had the heart of a bear, a heart that inspired us all."
While coaching Dane for several years, Parks learned that Dane was truly one of a kind. When asked about what it was like to coach Dane, Parks responded by stating, "He was devoted to the volleyball family. He TRULY cared about every single member of the family, from modified all the way through to varsity. He was the standard bearer for all that our volleyball family stands for and holds dear. He was a beacon and bastion of integrity, heart, devotion, and sacrifice."
Parks sees Dane as an incredibly impactful figure in the McQuaid Jesuit community. He believes that Dane embodies all the qualities that a McQuaid man should aspire to possess. When asked about what Dane's impact on McQuaid was, Parks responded, "His heart, his purity of spirit and his enthusiasm. Dane was unapologetically filled with the spirit of St. Ignatius of Loyola, and he truly set fire upon the earth. Dane inspired EVERYONE he encountered."
Dane truly left his mark on McQuaid Jesuit, and his impact on everyone he met will never be forgotten. He embodied all the great things that McQuaid Jesuit men should aspire to be: faithful, kind, intelligent, generous, selfless, and, above all, loving. His virtues, ideals, and standards of living sets the precedent for all McQuaid men alike, and those who follow in his path will truly set fire upon the earth.
Dane not only left a legacy here at McQuaid, but he left a legacy on the world around him. He is gone, but will never be forgotten. Buhite's closing words on Dane stated, "Even in his absence, he will still be a shining beacon for the school and its community. His legacy is truly inspirational, even for those who don't play volleyball. His legacy spreads beyond just what he did at McQuaid; Dane's legacy is about who he was at McQuaid and how he has touched the lives of everyone in and out of the school."
About the Writer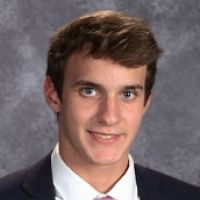 David Geen '20, Staff Writer
Geen came to McQuaid Jesuit as a member of the second sixth grade class in the fall of 2013. He is a player on the varsity volleyball team at McQuaid Jesuit,...