Playboy Carti's 'Whole Lotta of Red,' More like 'Whole Lotta Trash'
May 11, 2018. The long-awaited release date of Playboi Carti's debut studio album Die Lit, which peaked at number 3 on the Billboard album charts. Since August of 2018, Playboi Carti fans have been waiting for his new album, Whole Lotta Red, (WLR).
WLR is Playboi Carti's sophomore album that he's been teasing for over two years now. After all this time, he decided to finally surprise his fans with the album on Friday, December 25, 2020 on all music platforms such as Apple Music, Spotify, and Pandora. Nobody expected the kind of traction that the album immediately picked up, not even Carti himself.
At the ending of the first week of sales, the album had gained around 117,000 total sales, beating out everything else and securing Carti his first number one album. Out of shock he posted to Twitter, "!!!!! wTF. wE (are) # 1 > mY fANs . >".
In the timespan between March 3-June 6, 2019, many Carti songs leaked onto the internet. Many fans speculated these songs were going to be on the album, but ultimately were not. The album did have many features including Travis Scott, Kanye West, Kid Cudi, Future, and more big names to get fans more excited for the drop.
During the time that WLR dropped, Carti was trending all around the internet for many reasons surrounding the mother of his child, Australian rapper Iggy Azalea. Many rumors included that he cheated on her while she was pregnant and missed the birth of his son to have an album release party. He also refused to give the baby his last name or sign the birth certificate. All of this buzz around his name could have been a stunt to get more press for himself and the album.
When the drop eventually came, many fans were left wondering why they had waited so long for an album that they weren't satisfied with. Playboi Carti has one of the most diehard fan bases in the rap community, so when they have a problem with the album, it means something.
One of Carti's biggest and most loyal fans, fellow rapper Mario Judah, used his own, new platform to advocate for Carti's fans and tried to get him to drop the album on his behalf. Judah said, "I always had a plan if I were to blow up to try and get this man to drop his [expletive] album, 'cause I really wanted to hear it…He has really loyal [expletive] fans…we really wanted to hear his [expletive]."
After the initial drop of the album, Judah's hype quickly turned to disgust when he finished hearing the album. He was quick to point out how bad he thought the album was, and even was promoting Carti to speak on it.
In the comments of songs from his other albums Die Lit, and, Playboi Carti, on YouTube, many users have said things about reliving Carti's old music, while also bashing WLR:
"Whos here to cleanse their ears after listening to wlr."
"baptizing my ears after that god awful album."
"POV: You're here after listening to Whole Lotta Red to remember why you started liking this dude in the first place".
Carti has yet to comment on the reactions to his new album but has been preparing the deluxe version of the album.
About the Contributor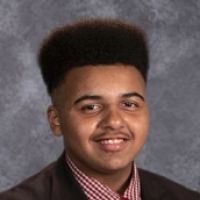 Jeremiah Robinson '22, Staff Writer
Robinson is a writer for McQuaid Jesuit High School's The Lance. He came to Mcquaid Jesuit in 2016, starting in seventh grade. In his time at McQuaid,...