Are Covid Midterms Fair to Students?
Covid Spike Leads to Minimal Action from Administration
With midterm exams around the corner, students are beginning to worry about how well they are prepared for a high-stakes exam. The largest spike in school history occurred with the return from winter break with an astounding 58 new cases. These students make up 13 percent of the school,  and with no online learning option, students were left to stay home and hope that they could get prepared in time. 
Midterms make up 20 percent of the semester grade for grades 8-12, which is lower than the usual 25 percent. The administration has taken measures to weaken the midterm weight, which shows they are knowledgeable about the negative effects it will have on students' grades this year. With semester averages typically lowered by midterms, there will be a drastic percentage of students praying for a curve this year.
The preparation for the midterm is not the only thing on students' minds as other work needs to be done while they worry about midterms. Other schools like Our Lady of Mercy High School have given an online option during this difficult time, but McQuaid insists on staying in school. 
Sean Rox '22 offered some insight on the matter, saying, "It's not fair. Kids are taking midterms after years off and are out of practice due to Covid." 
Covid is able to force students to stay home from school with little to help those students. Missing a week at McQuaid Jesuit, let alone right before midterms is difficult to come back from. Although, the new 5-day quarantine rule has helped kids get back to school earlier. This failure to accommodate these students has been a shining flaw in the McQuaid Covid-19 plan.
About the Contributor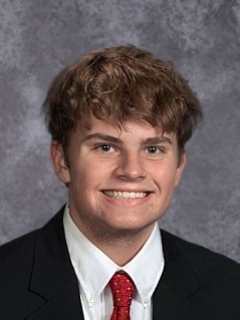 Aidan Hanna '23, Staff writer
Hanna came to McQuaid Jesuit during his sixth grade year. He is a member of the varsity volleyball team. He enjoys playing beach volleyball and going fishing...