The Egg That Broke History
Hang on for a minute...we're trying to find some more stories you might like.
Over the span of a few weeks, out of all things, an egg became the most liked post ever.
Recently, a picture of an egg at the account name @world_record_egg broke the world record for most likes on an Instagram post.
The world record was formerly held by Kylie Jenner, and the post was a picture of her baby when she was first born. The post had 18 million likes, but the egg smashed that record.
At this point in time, the egg has about 50 million likes, which is 32 million more than the former record holder.
With the egg still gaining popularity, it is unsure how many likes the egg will gain and how popular it will actually get.
The picture of the egg was first posted Jan. 4, 2019. In only a few days days, the egg destroyed the previous record.
The egg is still gaining millions of likes, and shows no sign of slowing down.  Many people are even trying to make accounts similar to the egg account, trying to gain popularity.
Some famous people have spoken out about the egg. Kyle Jenner, the previous record holder, posted a video to social media of her cracking an egg on pavement.
McQuaid Jesuit students had mixed feelings about the phenomenon
"I don't like it. It's really stupid. I just don't understand the purpose of it," freshman Will Taylor said.
Not everyone felt so negatively about the egg, though.
"I think it's cool, and kind of trendy," freshman Colin Buchbinder said.
Recently, the Instagram account has been posting pictures of the egg cracking more and more. On the day of the Super Bowl, the account posted a video of the egg cracking. After the egg cracked, the caption read, "The pressure of social media is getting to me, if you're struggling too, talk to someone. We got this." The post included a link in the video to a website for people who need to talk to someone if they are struggling in any way.
The egg may have been a stupid social media post that blew up for no reason, but at least it is attempting to give back to the community.
About the Writer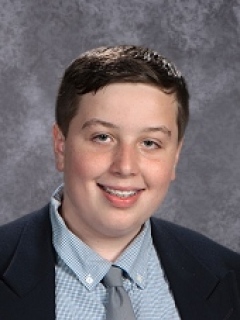 Brendan Lynch, '22, Staff Writer
Lynch came to McQuaid Jesuit as a freshman this year. He is a fan of the Buffalo Sabres, New York Yankees, and the Buffalo Bills, and plays baseball. He...