What's that smell? Loneliness.
Your cologne is making it harder to find love.
Hang on for a minute...we're trying to find some more stories you might like.
The beach, tobacco, flowers, and citrus. What do all of these common fragrances have in common? They are destroying the chances of having a good marriage.
Humans have natural pheromones, much like many other animals, that we use to attract mates. Darwin himself pondered the sexual nature of scent. "Why do bulls and horses turn up their nostrils when excited by love?" he questioned. Darwin theorized that animals produce two types of pheromones: ones used in defense (like a skunk), and ones used to attract mates. Sure, humans use pheromones far less than most animals, yet it still is a relevant factor in finding a mate.
An article by Psychology Today published in 1996 deeply explored the nature of scent when finding a mate. According to writer F. Bryant Furlow, "The Eskimo kiss is not just a rubbing of noses but a mutual sniffing. 'Only in the Western world,' the researchers point out, 'has it become modified to a kiss.'"  There are many examples in society where people are trying to catch a sniff of their potential mate. Because of humans' natural inclination to smell for mates, many companies have created destructive camouflage disguised as mate magnets.
Cologne and perfume may smell nice to the wearer, but it can cause long-term problems. Say you find yourself in a club, wearing your finest cologne. A young woman comes up to you. "The scent?" you say, "I'm wearing Nautica Voyage, by Nautica." One thing leads to another and you are getting married. It is to be the greatest day of your life, but it is a lie. Your soon-to-be wife does not know your true scent. She believes that your armpits sweat fragrant sea water.
As time goes on, you run out of your lie-perpetuating elixir. Your wife smells the armpits she so loved and recoils in disgust at your true scent. Your wife fell in love with Nautica Voyage, not you. A sad truth, I know. You are now alone and left wandering, trying to find your next cologne fix. All of this tragedy perpetuated by cologne. I am not as crazy as I may sound.  This is backed by science.
A person's natural aroma is used to indicate a compatible mate. When we smell a person, our body is trying to sense things like fertile compatibility, and a strong immune system. Swiss zoologist Claus Wedekind conducted an experiment in 1995 where he asked a group of women to sniff the unwashed t-shirts of several men they never met and rate how appealing they smelled. His discovery was shocking. He found that the women had very decisive preferences between the dirty shirts. They favored the smell of the men who were more genetically compatible with each of the women. The clothing that smelled the best to them came from the men with whom the women could genetically produce healthy children. This leaves many questions about the truth of how cologne affects relationships.
An article by The Atlantic proposed some of these questions. According to writer Jesse Frost, "Bathing in intoxicating odors may offer one type of allure, but what if doing so sacrifices a more fundamental mechanism of human seduction? If body odors contain basic genetic information, then obscuring them conceivably could risk throwing off people looking for a good match."
Cologne is leading to deception. Is it a coincidence that close to 41 percent of first marriages, 60 percent of second marriages, and 73 percent of third marriages end in divorce? (All the while these people are slathering their gullets with cologne to get another shot at love.) I think not. Stop letting cologne ruin our beautiful nation. The time is nigh. Stand up to your oppressors. Do not let cologne win.
About the Writer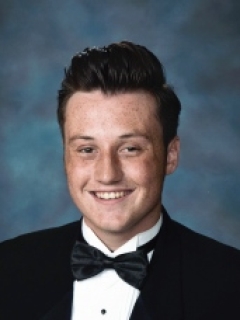 Kevin Reed, '19, Staff Writer
Reed came to McQuaid Jesuit in 7th grade and plays varsity rugby. He is a member of the Mosaic Club, as well as an established songwriter. He has released...