Halloween at McQuaid!
Very few schools celebrated Halloween with as much fervor and excitement as the McQuaid seniors and staff who dress in the most creative, spooky and hilarious costumes. 
The Seniors at McQuaid have waited years to be able to dress up for halloween. As an underclassmen looking at all of the seniors in costumes while you sit in your suit and tie was never fun.
"I've waited four years at McQuaid to dress up for Halloween," said Senior Zach Allen.
So when seniors finally got the chance to dress up on October 29, they went all out. Many students wore matching costumes or costumes inspired by a group, while dressed up on their own. Being able to bond with McQuaid brothers is an important part of the McQuaid experience and having some fun privileges helps strengthen that bond.
Senior Nicholas Passero certainly enjoyed the privilege. " It's nice to have a fun day in the middle of a stressful year."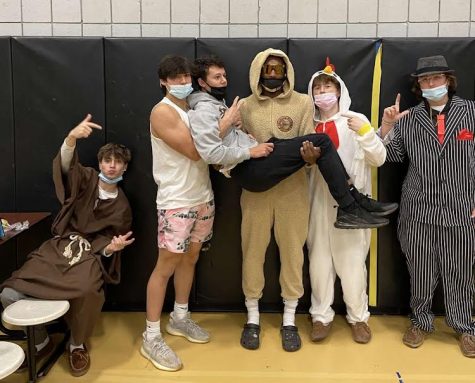 Not only did the seniors dress up, but so did the children of some faculty and staff, who came on campus for a Halloween parade through the building.  This was a great new Halloween tradition at McQuaid that allowed possible future knights to trick or treat in the halls.