Fall Drama Production of The Language Archive Leaves Viewers Dazzled
Although two productions still did take place last year, the loss of a live audience placed a severe damper on the thrilling entertainment of the theater. But this fall, director and English teacher Mr. Jeff Siuda (with help from administration and production staff) was sure to bring it back with a punch, staging Julia Cho's wonderful dramedy, The Language Archive. 
The play features a middle aged man by the name of George, played by Sean Beechy '23, who works as a linguist, leading a bland 9-5 life, but loves his job, as he feels he is the only one that understands the importance of language. The story kicks off with George's wife Mary leaving him, which breaks his heart and sends George into a deep depression. As time goes on, George's co-worker Emma reveals to the audience she is in love with him, but is too afraid to say so. At this time too, George brings in a very old Ellowan couple, Resten and Alta, who are the last two people to speak their native Ellowan language. These two provide serious comic relief as George tries to record them speaking their native tongue before it is too late. Although overcome with laughter from these two hilarious characters, the audience is able to feel deeper emotions as Resten, played by Connor Kresock '23, is overcome by a heart attack. As Alta sits with him in the hospital it is clear what their true message is: love. Love no matter how much you might fight, is at the root of everything. But they continue to work together happier than ever.  Right before it's over, the audience is able to understand Cho's true message: It's at the utmost importance never to hold back your true thoughts and emotions from those you care about, and it is hard to fully understand the power that language holds. 
With the brilliance of the actors and the director, they together created a wonderful and dazzling experience for all who watched. Making you feel as though you were not sitting in an auditorium, but actually there. 
However, it would be a shame not to also include how much the technical aspects assisted in creating the play to be what it really is. Technical director Mr. Kevin Karnisky created a massive and mesmerizing set. Working with a large crew led by stage manager Vinny Gelsomino '23 and deck chief Ryan Moore '22, the lights, sound, and set rounded out the show, making it a full, stunning production. 
After the show I wanted to get someone else's personal take on the performance, so I sat down with Dr. Damian Zynda, McQuaid's own Spiritual Director and an avid theater supporter. "I have come to anticipate high quality from the students under the direction of Mr. Suida, Mr. Karnisky and Mrs. Stofel," Zynda said.  "And at the end of every play I walk out and say to myself, 'This is high school? These young folks have incredible talent!'"
Dr. Zynda's favorite character was Mary. "She really loved George and realized that he could not give her what she needed to thrive in their marriage. It takes great honesty and courage to move on to find the things and people who are able to nourish and satisfy you." I also was dying to know, as the show is now more than a few weeks out, if anything still sat with her, she responded: "The amazing talent of the teachers and all the actors."
Needless to say, Dr. Zynda enjoyed the show and with only a few words she summed up the show. "Honest. Very real to life.  Complex." Words I would say would be agreed upon by many more who watched the show. 
I also was able to talk to many people after the performance who all gave the same responses, stating how much they enjoyed the show and how amazing the acting was. 
As I was walking out a woman named Ms. Roxy Shiffer (who heard about the show from the news) approached me, requesting to comment on the performance.
"I loved it, no, beyond loved it… I am a theater head, and watched both McQuaid shows last year on the livestream, and I know what McQuaid can do, so I had to see this one, and boy oh boy I was impressed," Ms. Shiffer said.
A woman whom I have never seen or talked to before was so touched by the performance that she just had to share her thoughts with me. That is the power this show truly had. It is also funny how her actions kind of fit in with the theme of never holding back what you really feel; it is evident that the message was clearly conveyed. 
Overall it is clear–the show was a hit. It was an outstanding play and a stunning reboot back into the world of theater that will always be remembered as the show that brought back the joy of live entertainment. 
About the Writer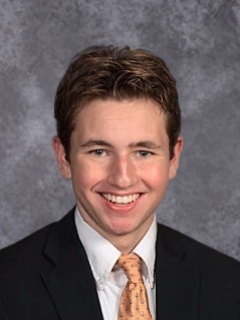 Aiden Blatter '23, Staff Writer
Blatter began his McQuaid Jesuit career as a 6th grader and has become more involved every year since. Currently playing on the varsity volleyball team,...