8th Grader Rhoan Kaulder Wins State Championship
This winter season, Mcquaid Jesuit eighth-grader Rhoan Kaulder won the state championship in the long jump… by two feet.
Kaulder surpassed New York State's best 31 jumpers and was one of the youngest athletes competing. In his final jump, Kaulder landed 2 feet further than the closest competitor. With this win, he became the first boy in Section V to win state titles for indoor track while attending a junior high school. 
His Track and Field Coach, Todd Stewart, says Rhoan is an exceptional athlete and has a bright future ahead of him.
"Rhoan's natural abilities put him among some of the greatest eighth graders in the history of the U.S. in his given disciplines. It's believed that his long jump of 22′ 10.5″ is an eighth grade national record. His 55-meter dash time was also a New York State class record. He finished 2nd in the nation in the 60-meter dash among 8th graders at Nike Indoor Nationals."
Rhoan Kaulder has always been a very good track and field athlete.  At just the age of eight, he competed in national competitions where he broke many records. Kaulder also attended the junior olympics where he ran the 100-meter and 400-meter, placing first in both events and setting new records. 
"Rhoan has been competing in the sport now since he was 6 years old. He's attended many high level and national caliber events around the U.S.," Coach Stewart said. 
Kaulder is an extremely hard worker.
"My work regime is to have two speed workouts throughout the week, and the rest is just lifting and recovering for the track meet," Kaulder said.
In his future track career, Kaulder hopes to run for a Division 1 college or get signed by a big company like Nike or Adidas.
About the Contributor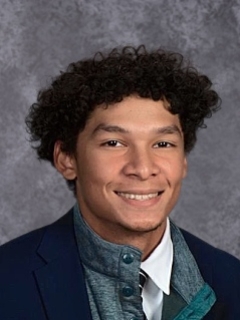 Mekhi Stephens '22, Staff Writer
Stephens is a senior at McQuaid Jesuit and began writing for The Lance in the fall of 2021. When It comes to sports at Mcquaid, Stephens has practically...