Kanye's DONDA Worth the Wait
What is the meaning, story, and reputation for Kanye West's newest album?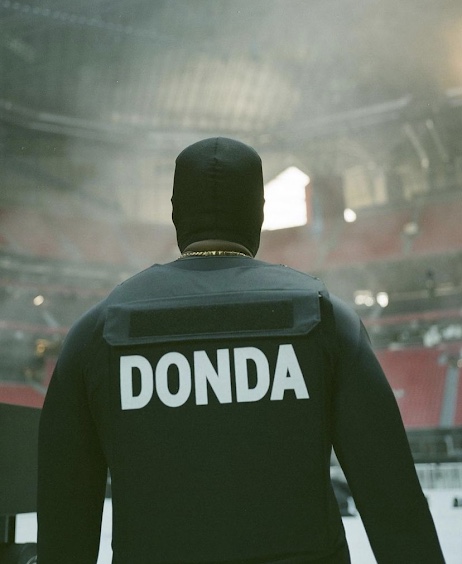 Kanye Omari West. You might just know him as Kanye, or even "ye," but you have definitely heard this name before. The rapper, songwriter, producer, businessman, and fashion designer, has finally released his very anticipated album, Donda.
This album is named after his late mother, Donda West, who died in 2007 from heart failure. This sadness prompted the release of Kanye's fourth studio album: 808s & Heartbreak in 2008. It was always said that Kanye wanted to dedicate something more meaningful to his mother. 
From 2010-2018 Kanye West released four more studio albums that brought the world to think he was an unstable and broken man. These albums: My Beautiful Dark Twisted Fantasy, Yeezus, The Life Of Pablo, and ye, made it clear that he was trying to find himself again, and to find out which way he should go in his future musical career. 
Then came Jesus Is King in October 2019. Being an almost entire Gospel album, this work of art was completely non-explicit, and produced a completely different sound from what his long-time fans were used to. It was finally clear where Kanye West was going with himself and his music. 
Ye took to Twitter on July 18, 2020, to tell the world that his newest album Donda would be released on July 24. Kanye even produced a tracklist to go along with the news. It was quickly deleted off Twitter by West for unknown reasons. The release date of the 24th came and went with no comment from Mr. West, and certainly no album. From that point on Donda was just a figment of imagination in his fans' minds. 
For months, nobody heard much about a new album from Kanye. Until finally on July 20, 2021, a TV commercial for "Beats By Dre" teased a new snippet of a song and date for an album listening party. This would take place on July 22, that upcoming Thursday. Little did we know, this would be the first of three other listening events. The last two took place on August 5 and August 26. The listening parties were a way for Mr. West to perfect his upcoming album. Fans were ecstatic knowing that Donda was coming very soon. 
On Sunday morning, August 29, fans awoke to the long-awaited album Donda  on all streaming platforms. The album had no cover, just a black square. But the beautiful content inside made up for the lack of album artwork. With 30 features from various artists and producers, and 27 quality crafted songs, Kanye West created one of the best albums of the year. Some of the artists featured include Jay-Z, Playboi Carti, Lil Baby, The Weeknd, Travis Scott, Lil Yachty, Young Thug, Don Toliver, Kid Cudi, Westside Gunn, Jay Electronica, Chris Brown, Pop Smoke, Roddy Ricch, DaBaby, Marilyn Manson, and Ty Dolla $ign. This album, like Jesus Is King, is completely clean and non-explicit.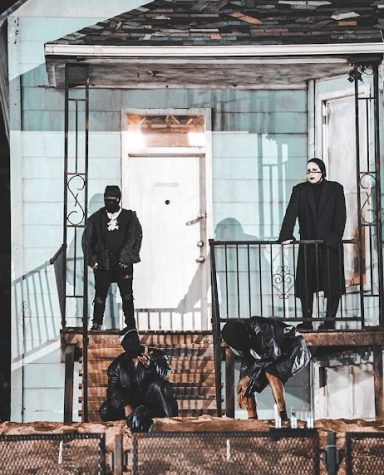 The album starts off with a track called "Donda Chant." It proceeds with the artist Sylveena Johnson saying the name "Donda" over and over. At some points very slowly, and very fast at others. Many listeners thought this was a silly and weird way to start the album. The true and depressing meaning behind this track is about the heart failure of Kanye's mother. Every time the name "Donda" is spoken it represents one of Donda West's last heartbeats. It starts off strong and short, almost as if she is fighting her own heart. Towards the end it gets very fast, but the name is spoken for longer periods of time. It finally ends with one last spoken name, short and fast. This being the very unfortunate passing of Donda West.
Some would consider Donda a great album because of its production aspects. Some of its chief producers include: Swizz Beats, Wheezy, 30 Roc, Louis Bell, Digital Nas, Warryn Campbell, BoogzDaBeast, and Mike Dean. The mixing on this album is done in a neat, yet experimental way. 
On tracks like "Junya pt. 2," the beat is very synthesized and bass heavy with the steady clap of a high hat. The quality of mixing really helps the beat combine well with Kanye and Playboi Carti's flow. During the Carti verse, Kanye's ad-libs and background vocals are induced well within the song. It is truly quite exquisite. Then in the last minute of the song, the transition from Carti to Ty Dolla $ign is smooth and crisp. These production aspects really show off the hard work of the executive producers, and what they have done on this particular song–these producers being Digital Nas and Kanye West himself. 
Some of the students of McQuaid Jesuit have listened to the new album. What some of them have to say about this work may be surprising.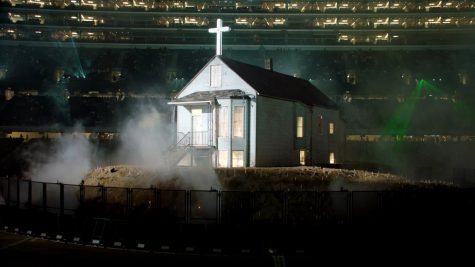 The 3 best songs on Donda, according to the students of McQuaid Jesuit, are 1. "Off The Grid," 2. "Hurricane," and 3. "Moon."  The three best features by other artists were also informally determined by McQuaid students. Those being: 1. Fivio Foreign, 2. DaBaby, and 3. Roddy Ricch. It was definitely surprising to see that artists like The Weeknd, Lil Baby, Don Toliver, and Jay-Z were not put higher on the list for best features, especially due to their mass popularity today
Overall, Kanye West's Donda is a masterpiece of art whether you like it or not. This album has been curated for over a year; you can really hear all the time and effort Mr. West put into this work. Donda is no doubt a very high quality production. Sure, people dislike the album, but a lot of people also really like this album because of its phenomenally crafted beats and clever vocals. In the end, the students of McQuaid Jesuit, on average, gave Donda a 7 out of 10.