McQuaid Bookstore Offers More Than Just Books for the Holidays
The McQuaid Jesuit Bookstore, is a place where you can buy textbooks, sweatshirts, and even stickers, but the focus of many is the apparel and clothing. It attracts students, staff, and even parents. Indeed, everyone and their mother wants some McQuaid apparel.
With brands like Under Armor, Adidas, and even Nike, most people can't help themselves from buying any of these stylish and quality pieces. The Bookstore is run by Mrs. Jennifer Roxstrom, who helps out any shopper in need of answers to their Bookstore-related questions.  
One of the most popular items right now is the Nike Dri-Fit Hoodie. It sports a McQuaid logo, while underneath it sits the subtle Swoosh branding. Mrs. Roxstrom claims the hoodie is very soft and comfortable, and that it has sold out two times since she first put it on shelves back in September. This item could make a great Christmas gift for any McQuaid student. The only downside is that it costs $70, but the extreme comfort and overall decent quality of these Nike hoodies could be the deciding factor for anyone thinking about purchasing. 
A very reasonable substitute for the more expensive Nike Dri-Fit hoodie, can be the Augusta Sportswear athletic fleece hoodie. It comes in an asphalt Black and slate Gray colorways. Many students and other customers like these hoodies because of the cheaper price and the ultimate comfort they offer at a cost of only $46.99. The low price point prompts this classic piece to sell out many times throughout the school year. 
New pieces are also on the way.  With an incoming shipment of Nike and Adidas quarter zips, the students of McQuaid will go crazy over the new apparel that they can wear on a normal school day with that shirt and tie combo.
With the arrival of new pieces, there are some items that will not be returning to the bookstore. The stocking of most English novels and textbooks has been halted because of the new location of the Bookstore, which features a more limited footprint. 
Ms. Roxstrom spoke on one of her favorite pieces that is in stock right now. The Eddie Bauer "Shirt Jac" is a quilted button up and collared jacket, with a McQuaid logo on the right chest. It costs $79.99.
"It's easy to throw on top of whatever you are wearing," Mrs. Roxstrom said. It's easy to wear because it comes in a charcoal black color, which matches most colors. Another great gift for any McQuaid student or affiliate, this shirt jac blurs the line between the great outdoors and the comfortable indoors.
Overall there are many pieces of McQuaid apparel in the bookstore now, or coming in soon. These pieces are great for the gift-giving season, and what's even better is to give your loved ones quality and cozy McQuaid apparel. 
About the Contributor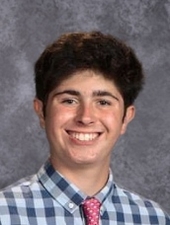 Jake Mulcahy '22, Staff Writer
Mulcahy came to McQuaid Jesuit in his 8th grade year. He is now a senior at the fine establishment. He has a passion for the past- and present-day fashion...